25th Anniversary Alcaidesa Links Golf Resort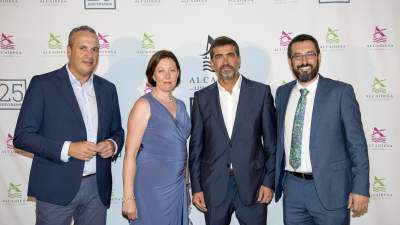 The last 08th of September Alcaidesa Links Golf Resort celebrated its 25th Anniversary, organizing an event that was composed for a Proam Tournament during the morning at Alcaidesa Links Golf Course and a Gala dinner party during the evening. It was an event to commemorate the 25th years of its history, proper operation and international prestige of the Golf Club. All the main sectors of Campo Gibraltar and Costa del Sol were represented and invited by the hosts Lucy Jane Fleming, Director of Costain Alcaidesa Limited, and the Golf Director Juan Pablo Arriaga, joined by the great human team of the company, who has built what is Alcaidesa currently. Politics, companies, organizations, sport clubs, golf courses, hotels, tour operators and media did not want to miss this event. A total of 400 guest and all the details for a success event: gastronomy, music, decoration, photocall, etc.
It is impossible to detail all the guest, but we will review the Mayor of San Roque ( Juan Carlos Ruíz Boix), the Mayor of La Línea ( Juan Franco), joined by their city counseillours, and also from Los Barrios, the Subdelegate of the Spainish Government in Cadiz Muñoz, the coordinator of Campo de Gibraltar with Spanish Government Nacho Macías, and representants of sports Clubs as La Balona, ULB, la UD Los Barrios, Marina of Sotogrande, Gecko Tour, artist etc. Anybody wanted to miss this special date with the Golf.
The speech before the prize giving, was run by Juan Pablo Arriaga, "1992 was an important year for Spain for its importants facts ( Expo, Olimpic Games,..) and the opening of Alcaidesa Links as an modest Golf Club. He review the Alcaidesa´s history and remind the construction of a second golf course and its new Club House, thanking to the inverstors to trust the challengue Project of Alcaidesa".
The Real Federation of Golf in Andalucia award to Alcaidesa for its 25 years of history. Finally, it was celebrated the prize giving for the proam, the Pro that win the tournament was Sergio Gutierrez and the second was the well known Juan Quiros.