CRUZCAMPO TOURNAMENT 2018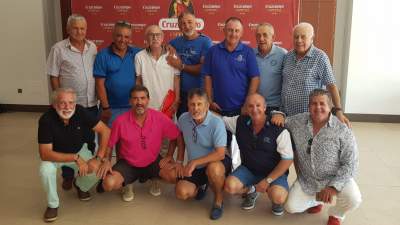 Last Saturday, August 25, 2018, the Cruzcampo Tournament was held at Alcaidesa Golf. The scenery was magnificent, our Links Course, an 18 hole course located next to the sea and with unbeatable views from practically all of its holes. And, to a field in excellent conditions, accompanied him a sunny day, warm and with hardly any wind, the perfect combination to play golf.
All registered golfers, more than 80, started the day with enthusiasm and, the motivation continued halfway, where was the refreshment stand with various appetizers accompanied by the beers and drinks of the Cruzcampo Group.
The day ended with a splendid awards ceremony. A perfect organization
To thank all the participants and collaborators and, in particular, Carlos Cañizares for trusting us one more year.
The best results of the tournament were:
First Men Category:
1º) Derek Alman, 38 points
2º) Francis Caruana, 36 points
3º) Rafael Guerrero, 35 points
Second Men Category:
1º) Malcom Borwick, 57 points
2º) Raúl Fernández, 37 points
3º) Chris Hainsworth, 37 points
Ladys Category:
1ª) Marina Rodríguez, 53 points
2ª) Carine Duval, 37 points
3ª) Elizabeth Plummer, 36 points
Scratch:
Francis Caruana
Congratulations to the winners.