SEBASTIAN DESOISA, PUPIL OF ALCAIDESA´S GOLF ACADEMY, IS PROCLAIMED THE WINNER AT THE SPANISH GOLF CHAMPIONSHIP OF PITCH & PUTT 2018 IN ALEVIN AND ABSOLUTE CATEGORY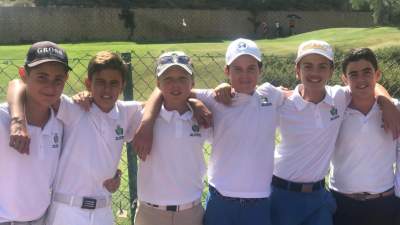 The last 23th and 24th of August, was celebrated in Bil Bil Golf in Benalmádena, the Spanish Male Enfant Golf Championship of Pitch & Putt 2018. Our Golf Academy was represented by 9 pupils of Alcaidesa Golf, who participate in different categories. The tournament was celebrated during 2 days in a marvellous facilities at Costa del Sol, with an spectacular weather.
We would like highlight the great tournament done by our renowned pupil Sebastian Desoisa, and also we congratulate him for his Victory. Sebastian was proclaimed the winner in the Spanish Male Golf Championship of Pitch & Putt 2108 in the Alevin and absolute Categories with a total of 99 points, after 2 days of tournament.
In the other hand, our pupil Alberto Baños was claisficated as 5th in the same category of the tournament. Also, his brother, Gonzalo Baños, finished as 6th in the Benjamin category of the tournament.
Once more, the youth players of Alcaidesa Links Golf Resort prove that they are in the first positions of the Spanish golf, because of a mix of their talent and their training in Alcaidesa´s Golf Academy run by our PRO Jose Luis Gil.
Congratulations to all our pupils and in special to Sebastian de Soisa for his Victory!