INTERCLUB CHAMPIONSHIP OF ANDALUSIAN INAFANTILE AND CADETES 2018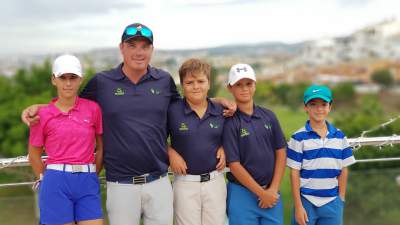 Last weekend, the Alcaidesa Golf Academy Team participated in the Interclubs Championship of Andalusian Infantile and Cadets held at Baviera Golf. Two days full of emotion because, due to the inclement weather, the competition had to be suspended its first day, being reduced to a single round under the fourball modality.
The 27 teams representing Andalusian clubs played the first 18 holes under the Foursome Medal-Play Scratch modality. Alcaidesa achieved the 14th place in the standings with 187 points. During the second day, the sun accompanied them and the field showed excellent conditions. As for the handicap classification, Alcaidesa obtained the 11th position with 158 points.
Gonzalo Baños, Andreas Román, Irene García and Daniel García, together with our Professional José Luis Gil, never cease to amaze us; excellent level of play and, above all, a good atmosphere and team spirit among all participating teams.
Congratulations to the Real Guadalmina Golf Club which, with the victory, revalidates its title of champion.