Pies Blancos Circuit Great Final 2018 at Alcaidesa Golf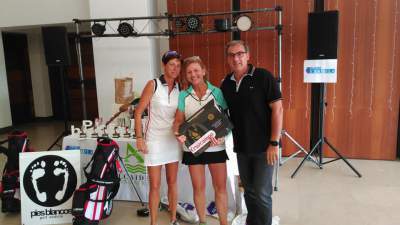 Last Saturday, September 15, 2018, the Pies Blancos Circuit Great Final 2018 was held in our Alcaidesa Links field.
This Golf Club without a field, based in Seville, always include Alcaidesa in its circuits and, this year, we were lucky to host the Grand Final.
After a week of uncertainty due to weather forecasts, which predicted a lot of rain, clouds endured and showed an unbeatable weather without water or wind; the course was spectacular and met the perfect conditions for a Grand Final like the one played.
Great variety of gifts that were distributed in the awards ceremony during the cocktail, highlighting the collaboration of: Super Carmela, Cruzcampo, Termas de Hispalis, Bodegas Barbadillo, Sherry Golf, Bellavista Golf and Alcaidesa, among others.
Winner 1st Category of the Tournament: Mario Vera, with 38 points.
Winner 2nd Category of the Tournament: Patrick Giuseppone, with 40 points.
Longest Male Drive: Manuel Cruz
Longest Female Drive: Celia Nebot
Congratulations to the winners!
Thanks for trusting us.