JUNIOR EUROPEAN OPEN 2018 FINAL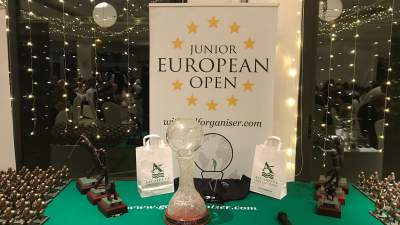 The Great Final of the Junior European Open 2018 took place at Alcaidesa Golf last Thursday, November 30, 2018 after eleven consecutive years. This prestigious event has already been confirmed again for next year 2019.
Fred Moghadam, the Tournament Director and Event Coordinator, confirms one more year at Alcaidesa because he loves this place, its courses and its exceptional staff.
Congratulations to the winners and we will see on next year!!
Girls Projected cut: 167 & Boys Projected cut: 163
| Position Girls | Player | Round 1 | Round 2 | Round 3 | Round 4 | Round 5 | Total |
| --- | --- | --- | --- | --- | --- | --- | --- |
| 1 | Haslam H | 76 | 75* | 79 | 75* | 71* | 221 |
| 2 | Gooding L | 85 | 76* | 78 | 78* | 74* | 228 |
| 3 | Bell L | 81* | 83 | 84 | 77* | 73* | 231 |
| Position Boys | Player | Round 1 | Round 2 | Round 3 | Round 4 | Round 5 | Total |
| --- | --- | --- | --- | --- | --- | --- | --- |
| 1 | Berry J | 82 | 76 | 74* | 76* | 70* | 220 |
| 2 | Allen B | 70* | 78* | 80 | 71 | 73* | 221 |
| 3 | Amador-Clark J | 78 | 77 | 74* | 72* | 76* | 222 |
| 4 | Land O | 81 | 78 | 72* | 76* | 74* | 222 |
| 5 | Vogelpohl J | 82 | 85 | 74* | 71* | 77* | 222 |