Alcaidesa with the Environment: IRRIGATION WITH WATER RECYCLED IN OUR GOLF COURSES.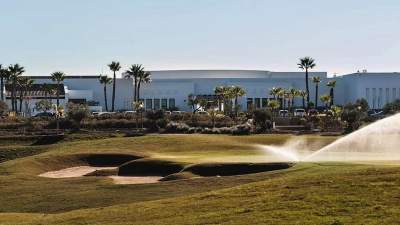 n recent years, most of the golf courses use recycled or desalinated water not suitable for human consumption for irrigation, and Alcaidesa Golf is one of them.
This is one of the main conclusions of the 'Study of the use of water in Spanish golf courses' prepared by the Royal Spanish Golf Federation in collaboration with the main Golf Associations - Spanish Association of Greenkeepers, Spanish Association of Golf Managers, Spanish Association of Fields and PGA of Spain-, which has been presented coinciding with the celebration of the International Tourism Fair in Madrid.
Those in charge of the golf courses consider a national regulation necessary in relation to the management and use of water to improve its quality and increase sustainability, emphasizing the need to carry out further studies and trials of the results of the application of biological products.
The annual consumption of an 18-hole golf course is around 300,000 cubic meters, an amount that amounts to 2,500 cubic meters per day. However, these data suffer certain alterations depending on the weather conditions and the time of year, since from October to March, depending on how the rainfall responds, they have more possibility to source rain or own resources.
The Commonwealth of Municipalities of the Western Costa del Sol - Acosol, is one of the most involved, for many years, in the growing use of recycled water in the golf courses of the Costa del Sol. From Acosol continue working on strategies aimed to responsible water consumption and reuse. These measures contribute to the conservation of the environment, to sustainability and care of the environment, and also mean savings for water reserves. The participation and collaboration of Acosol in this type of studies and research is another example of its commitment to caring for our environment and a commitment to sustainability, making this type of promotional activities complete in all respects.
And it is that the golf segment plays a fundamental and essential role in the deseasonalization of the tourist destination, a key part of the socio-economic engine of the area, hence the importance of enhancing the reuse and use of rainwater as the most viable solution for the future of golf.
Source: Royal Spanish Golf Federation