TWILIGHT IN ALCAIDESA GOLF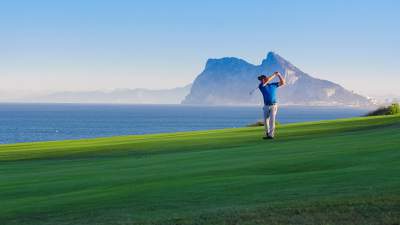 The Twilight promotion allows the golfer to enjoy the holes that give him time to play until the closing time at a lower price.
With the arrival of summer, we are very lucky to enjoy more hours of light, so Alcaidesa Golf has decided to add this service, from May 20 to September 15, 2019.
It is an offer that exists in almost all golf courses offering more advantages to holiday and leisure tourism for the practice of this sport during the summer. The reserve schedule would be from 2:30 p.m. until the closing and, during that period, as many holes will be played as time permits, that is, 9, 10, 11 ... or 18 holes. A good discount is usually applied to the normal seasonal price. In summer (low season here) it usually takes a long time to finish the game without problems.
In addition, in order to continue maintaining the level of excellence in equipment and infrastructure, the clubs work during the summer to improve and improve their greens and other facilities, something that affects the overall golf offer in the destination.
With this idea, the different golf courses offer a series of very competitive offers that, together with the attractiveness of their facilities, invite you to live the summer experiencing this practice on the Costa del Sol.