Are you ready to play golf in summer??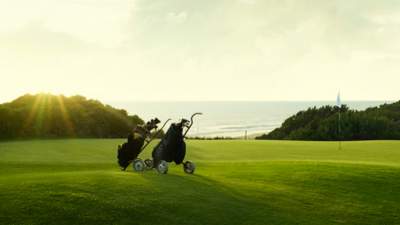 Summer is a time of good weather, vacations and free time to enjoy our hobbies in the open air. It is the perfect time to come to Alcaidesa Golf and share with us a sporting day while enjoying the fantastic surroundings in which our golf course is located.
The Costa del Sol is a privileged enclave throughout the year that allows us to have good weather, sun and pleasant temperatures. In summer these temperatures rise but that does not prevent us from continuing to enjoy our favorite sport and so that you can do it safely. Here are some useful tips to play golf in summer:
Choose the time you are going to play. Early in the day or at sunset the sun burns less and the temperatures are softer. It is essential to avoid the hottest hours, between 12 and 3 in the afternoon.

Use sunscream: keep in mind that you will spend several hours exposed to the sun so you must take care of your skin and protect yourself with cream, glasses and hat to avoid sunburn and / or burns.

Warm up before you start playing: even if it's hot, do not forget the importance of stretching before and after practicing golf. This way you will avoid injuries and contractures.

Use suitable clothes: choose comfortable, lightweight made with breathable fabrics that allow you to make movements and avoid sweating too much. It should also be light colors and, if possible, cover most of the body. In addition, the hat is a must-have item in the hottest time.
Do not forget to drink water: maintaining hydration is essential at any time of the year but much more in summer when high temperatures can cause dehydration.
Take a fresh snack, fruits and vegetables to take during the game, to provide extra hydration and remember to make a stop to rest and hydrate. You have to avoid copious meals before going out to play golf.
Following these tips you can continue enjoying your favorite sport also during the summer. At Alcaidesa Golf we want you to spend your vacations doing what you like most.
We will wait you!