Sebastian Desoisa wins at the European Championship U.S. Kids Golf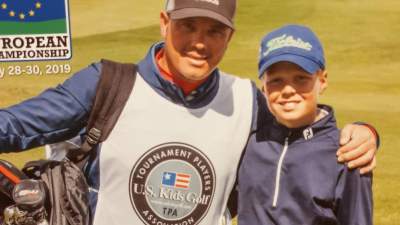 Sebastian Desoisa, one of the most advantage pupil of Alcaidesa Golf Academy, gets a new victory. This time at the European Championship U.S. Kids Golf, that get place from May 28-30, 2019 on The Glen Golf Club, East Lothian, Scotland. The Glen Golf Club is one of the most popular of East Lothian golf courses. Whether you have played golf in Scotland before, or if this is your first visit, the Glen is a golfing venue not to be missed. This North Berwick course enjoys superb views across the Firth of Forth and provides an enjoyable test of golf for all levels of player. Boys 12 will be hosted here for the first time in 2016.
The world's best young golfers, ages 5-18, will travel to East Lothian, Scotland in 2019 for the 12th annual U.S. Kids Golf European Championship. A field of over 630 players and their families travelled from more than 50 countries to compete in Europe's premier junior golf tournament at the Home of Golf. This year will mark the second annual European Championship Parent/Child Tournament, which will open for registration this spring! The event begins at the Gosford House, where families can participate in the Highland Games during the Opening Ceremony. Following the three-day championship, the European Van Horn Cup is contested between the top players from Western Europe and the top players from the rest of the world.
Junior Golf Scoreboard and the World Amateur Golf Ranking recognize the U.S. Kids Golf European Championship as a ranked event. Visit the Registration Information page to learn more.
Congratulations Sebi!!