Renovation hole 4 Alcaidesa Links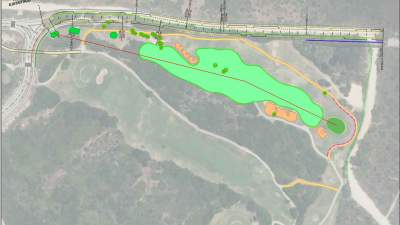 The works of renovation on hole 4 of Alcaidesa Links Golf Course, started the last 3rd of June, at the same time that the maintenance period for this golf course. During this period, it will be carried out the new location of the tees and the remodeling of the fairway and the bunkers of the hole. It is estimated that those works will take around 3 months, ending on 01st September.
The main reason for remodeling works of hole 4 at Alcaidesa Links Golf Course, is to improve the playability. The remodeling is planned and managed by Acttua Golf Services, and the construction is carried out by Golf & Turf Management.
The renovation will consist on the following works:
• Improvement of the orientation of the Professional Tee platform.
• The entire hole will be moved to the right, except the green, and the second and third platforms of tees will be also orientated to the right side.
• Change of orientation of the hole to the right to avoid the exit of balls. For this reason, the fall zone is turned towards the current right limit of the fairway.
• Elevation of the right side of the fairway in the area of ​​fall. This will help to retain balls and avoid the exit of the game.
• Change of the layout of the buggy road to the left side of the hole.
• Relocation of the bunkers, unifying the three bunkers located on the right of the drop zone by a single bunker with a larger surface area.
• Renovation and improvement of drainage and irrigation system of the hole.