DOUBLE VICTORY FOR THE ALCAIDESA GOLF ACADEMY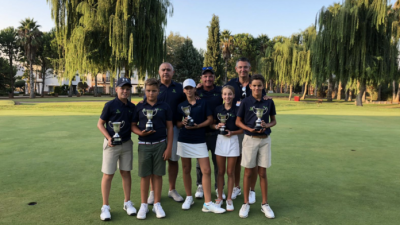 Alcaidesa Links Golf Resort is proclaimed runner-up in the Championship of Spain Golf Interclubes Infantil and in the Championship of Andalucía Interclubes Pitch and Putt 2019.
One more year, coinciding with the end of summer, August 29 and 30, Lauro Golf Course, was the host of the 41st edition of the Interclubes Children's Golf Championship of Spain. This tournament brings together 36 teams and 144 young promises whose mission is to enjoy a high level competition and highlight the great work that is done in the clubs at the quarry level. The best Spanish golfers of the last 40 years have gone through this test, in which company, competitiveness and learning go hand in hand.
Each team consists of two boys and two girls under 15 in possession of a national handicap and at least one year in their respective clubs. Each member of each team plays 18 holes per day in Stroke Play mode (scoring game), scoring, of the eight total trips made during the two days, the seven best cards. The club wins the title that accumulates the least number of joint hits.
The Valencian Club El Bosque has won first place. The Alcaidesa Golf Team: Sebastián Desoisa, Alberto Baños Ramos, Irene García and Alejandra Cervera, staged an important return this last day, jumping from sixth to second place and scoring a total of 499 strokes.
On the other hand, the Pitch and Putt Interclubs Andalucía Championship was played at Bil Bil Golf (Benalmádena) on the same weekend. A total of sixteen teams from different points of the Andalusian geography have gathered in the eighteen par three holes of this field.
The competition was developed in an excellent environment during two pleasant days, and ended with the absolute victory of the team of the Real Club de Campo de Córdoba, which obtained the best result in both foursome and fourballs modality as an individual modality; followed by the Alcaidesa Golf team: Sebastián Desoisa, Alberto Baños Ramos, Irene García and Gonzalo Baños Ramos.
CONGRATULATIONS TO ALL!