Keys to lower the handicap in one year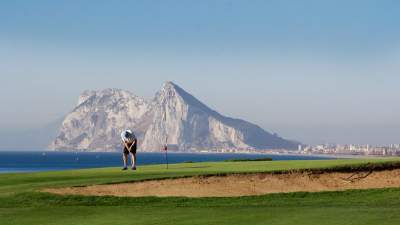 Lowering ten handicap points requires different things depending on the level of the player. It is not the same to go from the barrier of 100 hits to 90 hits than to go from 90 to 80.

Let's imagine that your average hit is around 100, more or less handicap 28. In this case the things that most influence are your ability to put the ball in play from the tee and not necessarily with the driver, reduce the amount of penalties he commits (out of bounds, lakes, etc.), take the green when you approve and reduce the amount of putts you make to an average around 40 putts in 18 holes.

If your average hit is 90 (Around handicap 18), the requirements start to be different. From the tee you have to put the ball into play, but you have to start making a certain distance, so the driver has to start being able to hit it more or less well. With the stroke around green you already have to start leaving balls in a distance range close enough to give you torque or bogey options. The average of putts already has to be around 36 putts in 18 holes and the game strategy begins to be relevant.
With an average of 80 (around handicap 8) your game has to be much more consistent. The efficiency from the tee starts to be almost essential. The shots to green have to be more precise, especially 100 meters down, where the percentage of balls in green should be high. Your short game has to be one of your strengths and your putt too. In this phase the strategy and the management of your game are very important.

When you reach a handicap from 5 down the level of demand is very large. Not only do all areas have to have a certain regularity, but you also have to be prepared for the mental and emotional demands that you will be faced during the return.
All these phases require different skill levels and preparation. The biggest problem in everyday life is the lack of proper planning of how to move from one level to another.
This is where the work of a coach is essential. When planning the improvement the player and coach have to pass 4 phases:
1. Evaluate
2. Predict and set goals
3. Prescribe
4. Supervise

If you want to lower 10 strokes on average, the result will be seen over a period of one year. First you have to evaluate yourself with your coach or teacher in 6 basic technical / tactical areas:
o Putt
o Bunker
o Chip / Pitch around Green
o Strokes of less than 100 meters with wedges or full swing
o Game on the golf course

After evaluating, we set objectives according to our goal and our needs. In this way the sessions with your coach will be very specific according to your goals and needs.
Once the objectives are established, we prescribe what must be done to achieve them. Classes or sessions with your coach have to be part of a plan, in this case annual, well structured and planned that is aimed at achieving the objectives, in this case lower 10 strokes our average result. So all areas must be addressed, but in different amounts it depends on the personal needs of the player.
You have to distribute the time and volume of the sessions and training according to the objective, for this we have to have planned how and when we are going to work the different basic areas in such a way that we work all but that more emphasis on them that need more work.
During the year we have to monitor the progression through statistics and test provided by your coach, in order to adapt the sessions and training to the improvements that are made.
Remember that the real skill in golf is to make few hits when you are not playing well. To achieve this you have to develop a series of effective skills that support you when you are not at your best.
Having a plan for continuous improvement is the key. To continue training!
Source: opengolf.es