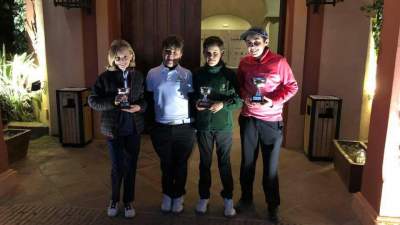 Last weekend started the Circuit of Andalusia for the categories Benjamin, Alevín, Infantil and Cadete.
First test for the Ranking of the Circuit of Andalusia played in the Real Club de Córdoba, Santa Clara Granada and La Cañada.
The Golf Academy has been represented by the following players:
Alevín Femenino:
Marta Romero: Subcampeona
Alevín Masculino:
Alberto Baños: Subcampeón
Sebastian Desoisa: Tercero
Cadete Femenino:
Benjamín Masculino:
On the other hand, a new test of the Circuit Miguel Ángel Jiménez has also been played at the golf club Lauro Golf where player of our Academy Andreas Roman has become subcampeón in his category.
Congratulations to everyone!